Moving across the street or around the world is never easy. It is a complex project where stress levels are pretty high. We have just launched our new
Moving Checklist
mini site to address this exact problem.
My moving story
A few years ago I had to move from the US to Europe. I was a first time mover and had absolutely no idea what I was facing. I was following the love of my life, so no company relocation package was there to support me. I had to figure it all out by myself. Although a quick search brought up many sites with long moving checklists, none of them actually had a process to follow and a tool to use. I found myself searching for moving companies online, reading some online reviews, contacting some via their form and then setting up appointments for a survey. Since on one hand I wanted to have some comparison but on the other did not want to waste too much time, I limited myself to 5 moving companies. After the first one showed up, I realized that there had to be a better way. During the survey visit we walked around my apartment and made an exhaustive packing list. The sales person was also trying constantly to up-sell me more products and services (boxes, insurances etc.). After the visit from the second company, I cancelled the rest and simply emailed the remaining a copy of the first packing list I made. The second issue I had with moving was that each checklist was targeted at different people. E.g. some were for an international moves, some for families with kids (at the time I was still single - but very much in love) and others focused on relocating with a car. I ended up making an excel sheet onto which I copied all the relevant tasks and got a nice personal moving checklist that fit MY needs.As mentioned, throughout the process I was sure there had to be a better way. One of the triggers to kick-start Checklist was this experience. So no wonder it is one of the first checklists I thought we could implement.
The better way
In the past months we have been working on a mini-site to help all those first time movers save time and money as well as have a more confident move. We are very proud to launch today:
https://moving.checklist.com
: a site dedicate to people on the move! The site allows you to enter some basic information about your move (e.g. where you are moving from and to, when, how big is your house). You can easily fill-out of a moving survey with an inventory of your home and then receive a customized moving checklist. As always, your checklist is available in your Checklist account online as well as on your mobile device.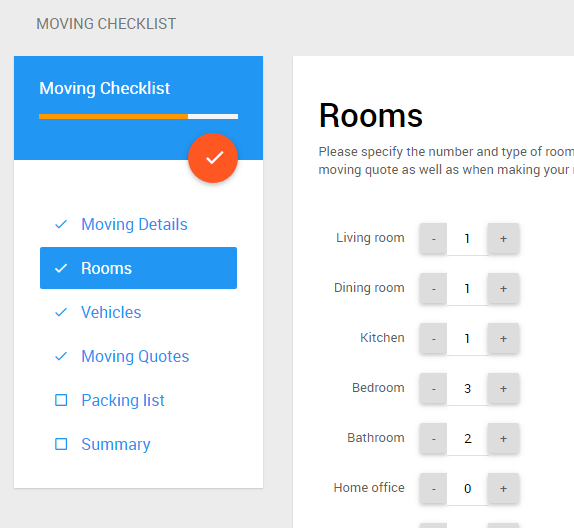 Save time
The first issue that I had back when I was moving was having to find multiple companies, contact each one, schedule a survey and fill out multiple forms with the same info about my move. Moving checklist solves this. Once you fill out your info, you are automatically matched with 5 moving companies which fit your moving profile. You have a simple inventory app that allows you to go room by room and inventorize your household goods by selecting items from a pre-made list (you can always add your own). You can then share this list with a simple link with any moving company. No need for 5 surveys!
Save money
You get 5 FREE different moving quotes. You are in control and since all quotes are based on the same list, it is easy to compare and make an informed decision. Check!
Stay organized
The custom checklist is available online and on the
checklist app
. You can also use the checklist as your moving binder. Simply attach the different documents you receive to checklist tasks (e.g. take a picture of your pet vaccination document with your phone and immediately attach it to the "Pet Documents" task. Or, as you walk around your house making your list, take pictures with your phone and add those as attachments to the list. Then share the list with the moving company so it is easier for them to make a moving quote.Last tip: our database of checklists contains additional lists that you might find useful. E.g. a list of "do not ship items" (safety hazard), packing tips, moving out checklist (on how to leave your place) and more. Do a search on "moving". Please try out the site and let us know what you think in the comments below.
Moving Checklist